The hall has a capacity of 300 people and is known for its excellent acoustics and is a center for chamber music concerts as well as conferences and special events
Read Time:
6 Minute, 6 Second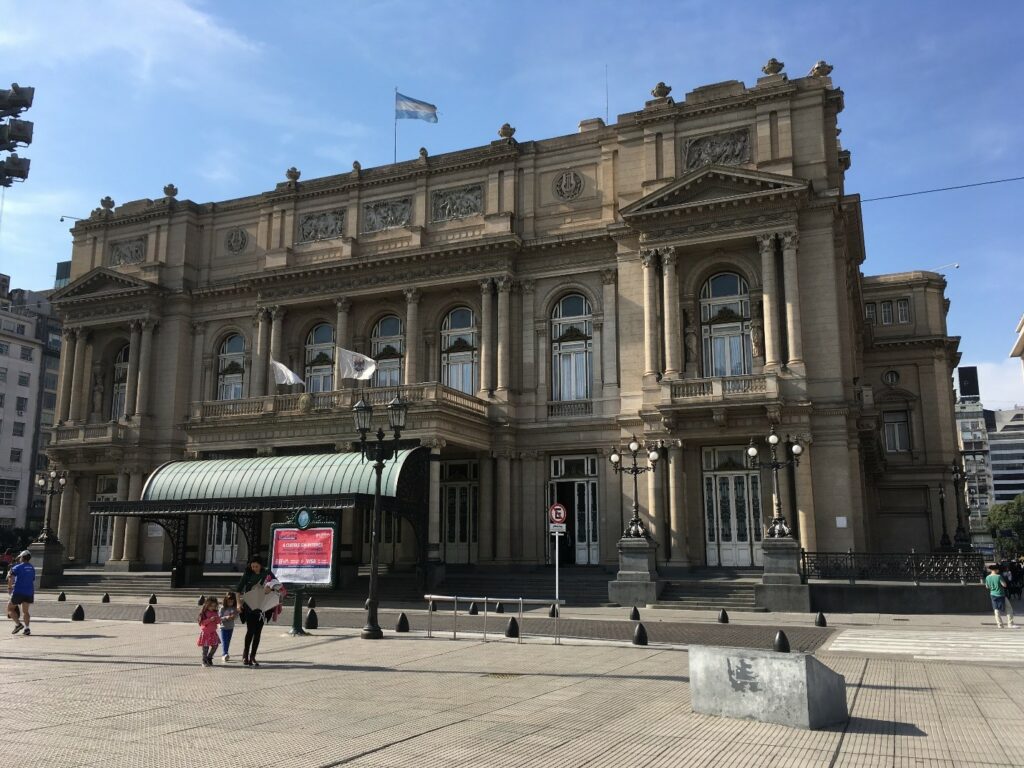 Hi again, I'm back to tell you some more about the Colon Theatre in Buenos Aires. As we mentioned in part 1 (add link) there are two ways to experience this magnificent landmark: attending a performance and taking the guided tour. If you don't have much time available or are not lucky enough to get tickets to attend a performance, or even if the performance taking place when you visit is just not your thing, or if you'd like to be able to walk around the whole place while learning from an expert about its history and architecture, consider taking the guided tour. They are available every day from 10 am to 4.45 pm, every 15 minutes in Spanish, also available in English at 11 am, 12 am and 3 pm and in Portuguese at 1 pm and 4 pm. Advanced reservations are highly recommended if not a must, tours are limited to 34 people, and they fill up very fast! So, make sure to plan ahead. You may purchase tickets online at the official webpage: https://teatrocolon.org.ar/en/visit-us/guided-tours or in person at the box office: Tucumán 1171.
Here is a location map for your reference: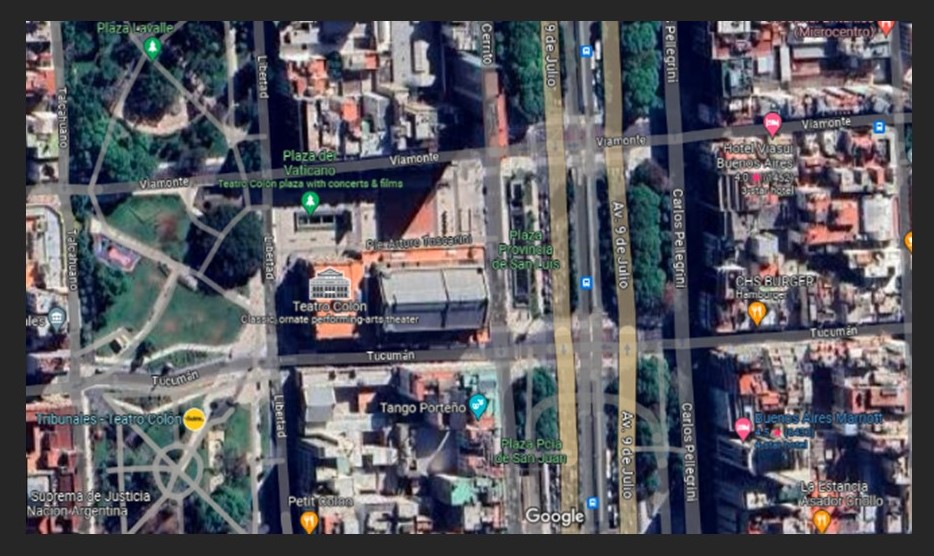 Arrive a few minutes in advance of your scheduled time cause all tours start punctually. Access is through Tucumán 1171 once inside you'll find yourself in the "Pasaje de los carruajes" which means passage of the carriages, a small interior cobblestone street that crosses through the theatre communicating Tucumán Street (where the box office is situated) and the Toscanini Passage on the opposite side. This passage was designed by the architect Francisco Tamburini, intentionally camouflaging it with the architecture of the building. It was used for the carriages to enter so that on rainy days the ladies could descend there and enter directly into the Foyer without getting their long, elegant dresses wet.
Once inside apart from the box office, you'll find a luxurious coffee shop where you can enjoy from coffee and Argentine pastries to drinks, lunch, and dinner, before or after the tour. You´ll find the sign for guided tours right in front of the box office or just go wherever you notice people gathering around. After the guide states the visit rules (no filming is allowed, photographs are welcome in general unless specifically advised against), you'll immerse yourself in the Grand Foyer. A magnificent room dominated by a grandiose staircase surrounded by columns of red Verona marble, and imitation Botticino marble, the staircase itself is entirely made of Carrara marble.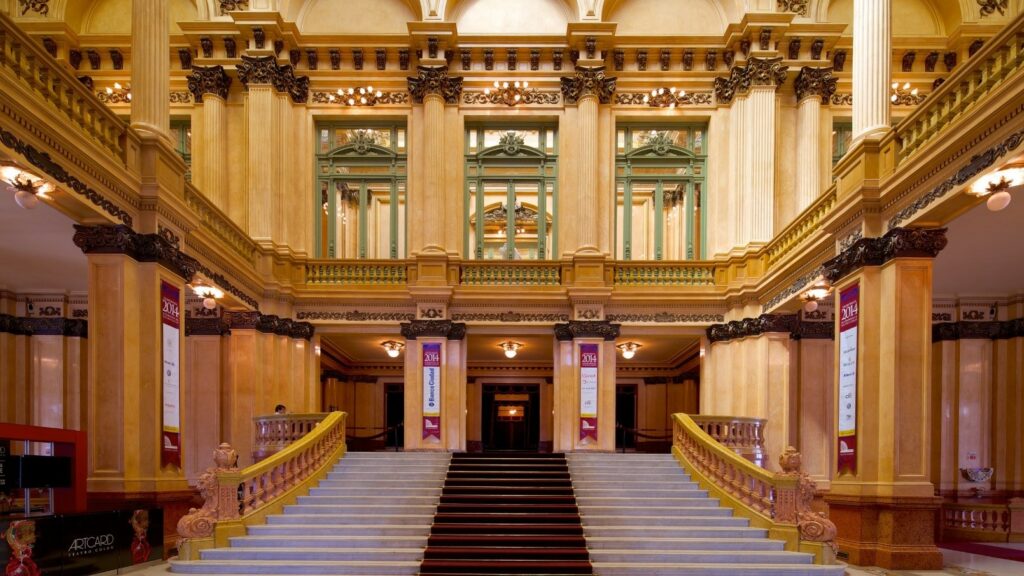 Impressive multicolored vitraux (stained glass) are found both in different parts of the ceiling and on the sides of the room. These were made by the famous Gaudin house in Paris brought to Buenos Aires during the construction in 1907. Since they are very high up, it's extremely difficult to take a good picture of them, and certainly binoculars would be helpful to appreciate the details. If you'd like to learn more about them and see images with greater detail, I can refer you to this article from an Argentine newspaper: https://www.clarin.com/arq/pinturas-luz-vitrales-maravillas-teatro-colon_0__zKrPxZq_.html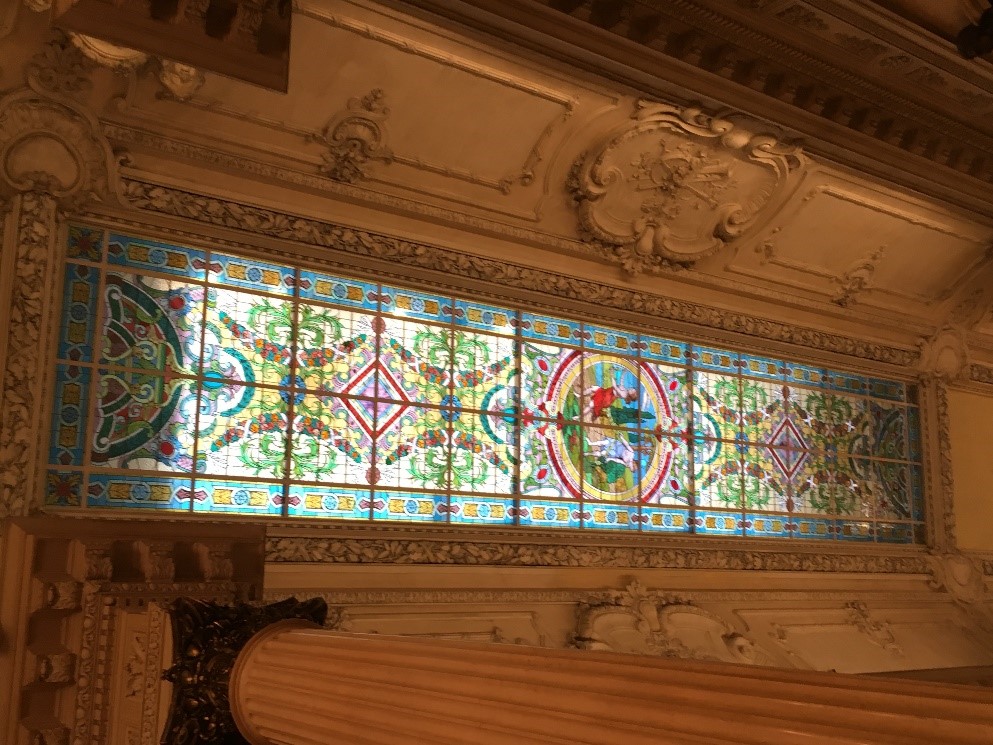 Going through the Busts Gallery, which is a wide corridor on the first floor with marble columns lined with busts of famous composers and musicians, you'll get to the sumptuous Golden Hall. It is richly decorated according to French style and is considered a symbol of social status for the 19 hundreds elite that looked up to the European aristocracy and tried to imitate it as much as possible. In fact, Buenos Aires has been known to be considered the "Paris of South America". The room is ornated with gold leaf and stucco and fine mirrors on the walls. The ceiling of the hall was painted with al fresco by depicting the Triumph of Aurora.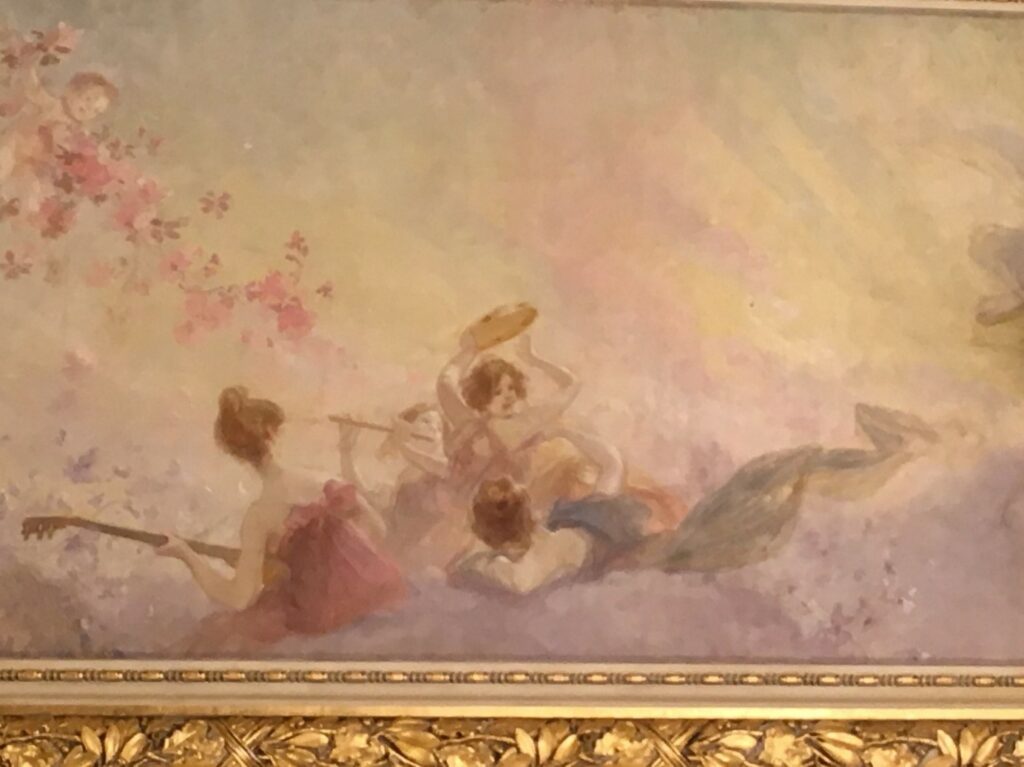 The hall has a capacity of 300 people and is known for its excellent acoustics and is a center for chamber music concerts as well as conferences and special events. Beautiful French style sofas, oak floors and impressive chandeliers complete the majestic room decor. The chandeliers some of the most beautiful and impressive chandeliers in the world, they were made in Paris in 1908 and are made of bronze and crystal. Each one weighs over 1,000 kilograms and is approximately 10 meters tall.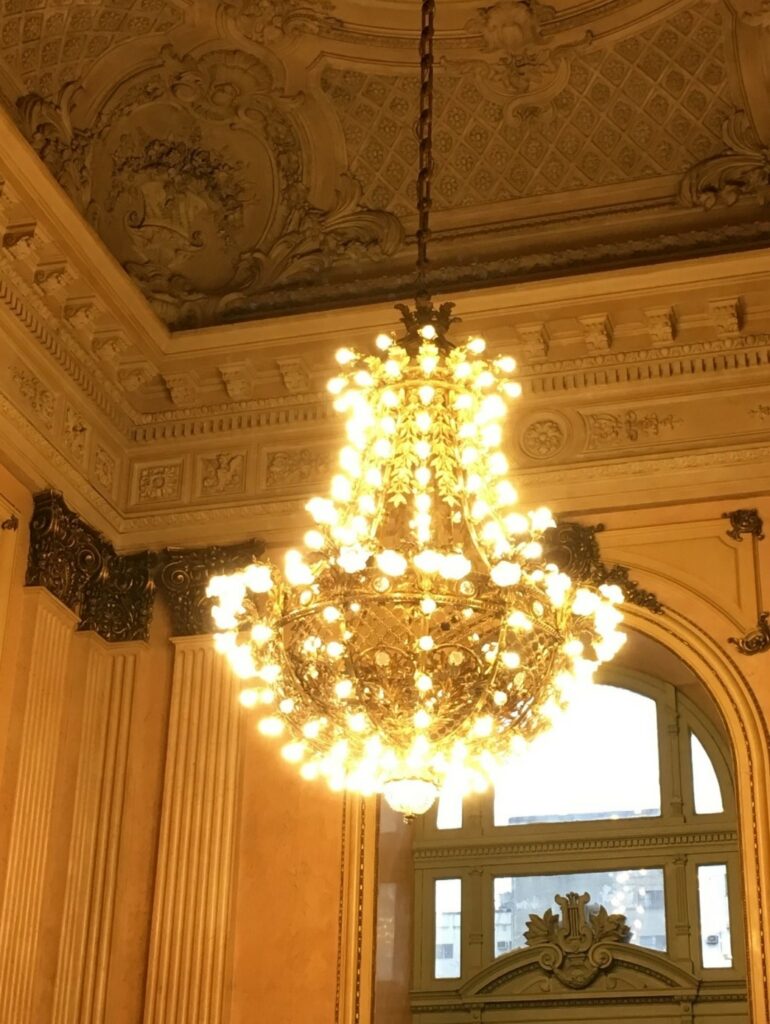 The next stop is the magnificent Auditorium itself, famous around the world for its acoustics and richness of its décor: a lavish Baroque style, with red velvet seats and ornate gold leaf detailing. During the visit, you get to walk down the main corridors and visit some of the luxurious boxes.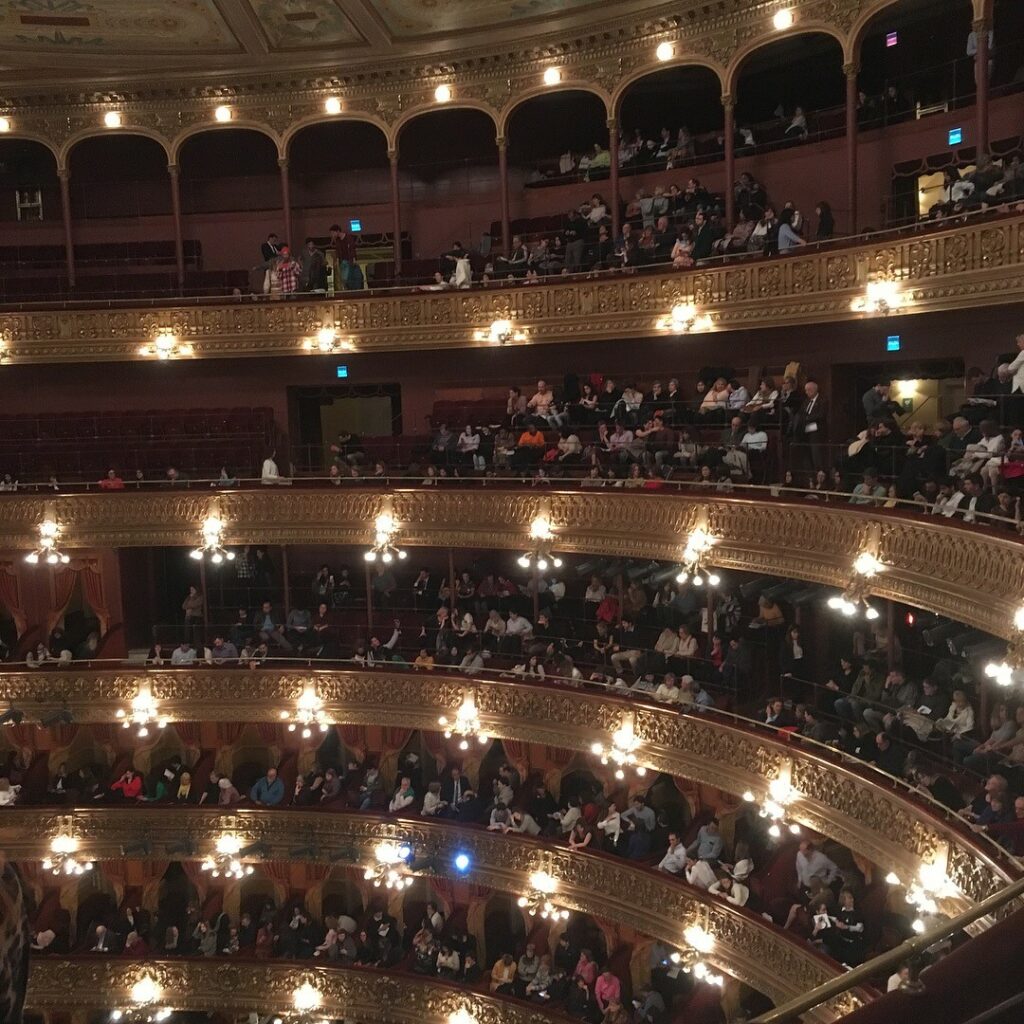 During our visit they were changing the lightbulbs of the chandelier the usually hangs down from the ceiling in the middle of the auditorium and we learnt it is 7 metres in diameter and weighs 1300 kilograms, not to mention the massive number of lightbulbs! To change the lightbulbs the chandelier is lowered to the level of the orchestra seats and workers go around it, changing the lightbulbs, which takes a quite a long time as you can imagine. Pictures of this could not be taken regretfully.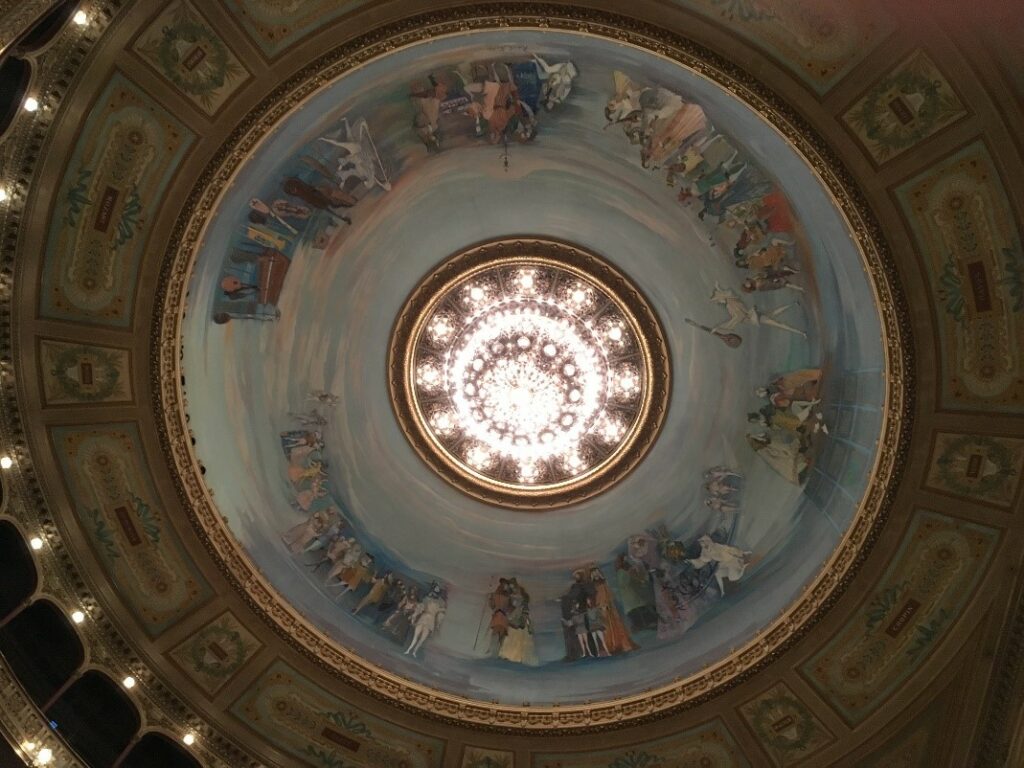 There is so much to learn about the Colon that the 50 minutes of guided tour is not enough, that's why I recommend reading some more about it before or after your visit. I can point out a few more final facts and then it will be up to you to come visit and do your own research. The most salient characteristic of the Theatre is its eclectic style due to the diverse stages it went through during the 20 years that its construction lasted. The original structure was designed by the Italian architect Francesco Tamburini, who gave it its classic Italian style, then Vittorio Meano introduces a few changes, until finally Jules Dormal, a Belgian architect, gives the building it final French imprint.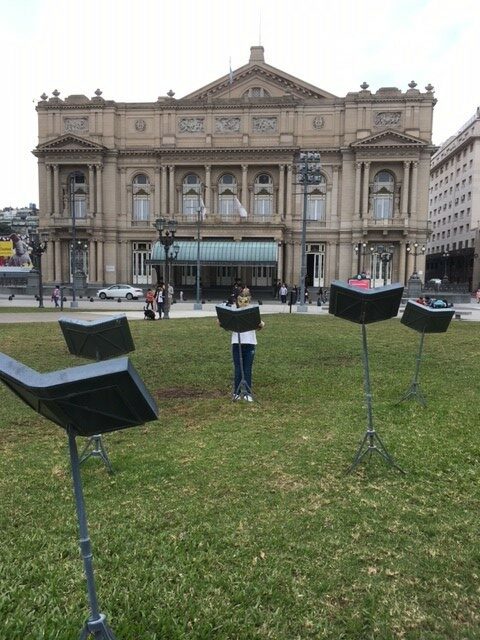 NOTES: https://www.buymeacoffee.com/vkambo