Oberhäßlich: Over Ugly; Kloschwitz: Loosweat; Möse: Cunt; Affendorf: Monkey Village; Ohnewitz: Without Joke; Katzenhirn: Cats Brain; Billigheim: Cheap Home
Read Time:
1 Minute, 51 Second
Driving back from the Netherlands, on one of our trips there, we made a diversion because I had spotted a little spot on the map called AMERICA and I really wanted to go there to see this AMERICA in the Netherlands.
It's a small village with a café in the middle, we stopped there and had our coffee & cake and had our thermos filled with coffee so that we had enough until we got down to Bavaria. Unfortunately, I didn't take any photos of the town sign of AMERICA in the Netherlands.
Recently, I stumbled across this map online, which I don't want to deprive anyone of, because there are places with funny names in Germany, too. You can find AFRIKA, BENZIN and SCHABERNACK in the north-east. In the north and northwest you will find ENGLAND, KALIFORNIEN, BRASILIEN and RUSSLAND.
If you want to have fun with this map, you can look in the table and find the translations.
I wish you a lot of fun with the ingenuity of the Germans with their toponymy.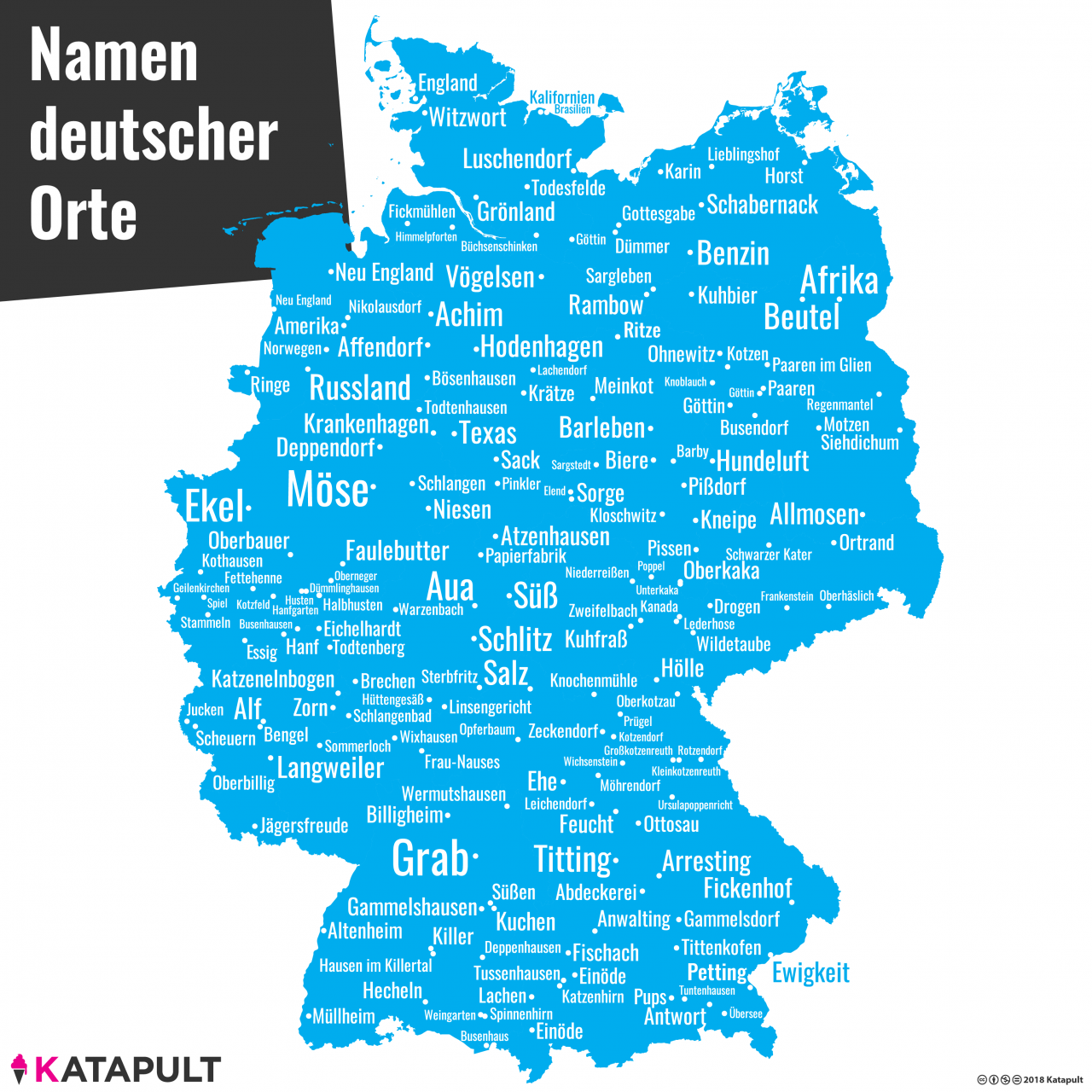 Namen deutscher Orte by Katapult – LINK CC BY-NC-ND 4.0 (Namensnennung – Nicht kommerziell – Keine Bearbeitungen 4.0 International)
Top left:
Kalifornien: California
Brasilien: Brazil
Grönland: Greenland
Neu England: New England
Amerika: America
Norwegen: Norway
Affendorf: Monkey Village
Russland: Russia
Lachendorf: Laughing Village
Bösenhausen: Evilhouses
Deppendorf: Moron Village





Top right:
Schabernack: Hoax
Gottesgabe: Gift of God
Göttin: Goddess
Dümmer: Dumber
Sargleben: Coffinliving
Ritze: Gap
Kuhbier: Cowbeer
Benzin: Gas/Petrol/Fuel
Afrika: Africa
Beutel: Bag/Pouch
Kotzen: Puke/Barf
Regenmantel: Rain Coat
Ohnewitz: Without Joke
Busendorf: Breast Village
Motzen: Grumble
Siehdichum: Lookaround
Middle left:
Ekel: Disgust
Möse: Cunt
Pinkler: Pee-er, person who pee
Kothausen: Excrementhouses
Fettehenne: Fat hen
Husten: Cough
Kotzfeld: Puke Field
Aua: Ow!
Süß: Sweet
Hanf: Hemp
Essig: Vinegar
Schlitz: Slit




Middle right:
Hundeluft: Dog Air
Pißdorf: Piss Village
Biere: Beers
Elend: Misery
Sorge: Sorrow
Kloschwitz: Loosweat
Kneipe: Pub/Tavern
Pissen: Pee
Schwarzer Kater: Black Tomcat
Oberkaka: Uppershit
Unterkaka: Undershit
Frankenstein: Frankenstein
Oberhäßlich: Over Ugly
Drogen: Drugs
Lederhose: Leather Trousers
Kanada: Kanada
Bottom left:
Brechen: Breaking
Salz: Salt
Jucken: itch
Zorn: Anger
Wixhausen: Wankhouses
Bengel: Rascal
Linsengericht: Lentil Dish
Sommerloch: Summer Slump/Silly Season
Oberbillig: Over Cheap
Billigheim: Cheap Home
Langweiler: Bore/Nerd (person)
Grab: Grave
Gammelshausen: Laze Around Houses
Kuchen: Cake
Deppenhausen: Moron Houses
Altenheim: Old People's Home
Müllheim: Garbage Home
Lachen: Laugh
Spinnenhirn: Spiderbrain
Einöde: Solitude
Busenhaus: Boobies House
Bottom right:
Hölle: Hell
Knochenmühle: Bone Mill
Prügel: Bludgeon
Zeckendorf: Ticks Village
Ehe: Wedlock
Möhrendorf: Carrot Village
Feucht: Wet
Titting: Titting
Abdeckerei: Knacker's Yard
Fickenhof: Fucking Yard
Gammelsdorf: Laze Around Village
Petting: Petting
Katzenhirn: Cats Brain
Tuntenhausen: Fag Houses
Pups: Fart
Antwort:Answer
Übersee: Oversea
Ewigkeit: Eternity