The view of the mountains and the Beagle Channel from the plane just before landing was incredible.
Read Time:
6 Minute, 23 Second
Sometimes, when plans go wrong, it can be one of the best things that can happen to you.
Let me tell you what happened to us to illustrate this.
A few years ago, we had carefully planned a ski trip to Mendoza along with a family of friends on our kids Spring Break. One day ahead, I was buying some last-minute items at a nearby store when I got a call from one of my friends who was in a bit of a shock because she had just learnt that the ski resort we were going to had been shut down because there wasn't enough snow for it to be operational. I felt an avalanche of feelings of dismal as I imagined our dream trip melting before my own eyes. I walked sadly back home thinking of a way to tell my husband and kids that the trip had to be cancelled. I was going for something like: There's no way you can control weather. We'll try again next year earlier in the season to make sure there will be snow, bla, bla, bla… But somehow, I refused to accept we that we had to reschedule for next year, there must be something that could be done.
Then it hit me: what if we changed location? I just hoped it would be possible with such short notice. Ushuaia seemed to be the right answer. The Cerro Castor ski resort down there is known for having one of the longest snow seasons. It is in fact, the most southern ski resort in the world and luckily for us, it's in Argentina. When my husband got home, there wasn't much to say since there was plenty to do. As soon as we sat in front of the computer, we learnt that Airbnb had already returned our funds and offered to use them for another reservation with a discount or get a full refund. We found a very nice cabin quite near the ski resort that was available. Now the plane tickets. We'd planned to go to Mendoza by bus, but Ushuaia is much further out a little over 3.000 kilometers from Buenos Aires and bus or drive was out of the question. We were ever so lucky to be able to book 4 tickets using miles from our mileage program. After some long nervous hours, getting everything into place, we were all set. To say the truth, we had our tickets and lodging, and managed to book a car rental, but that was all, the rest we would take care at destination. Our flight out was the morning of the next day!
We were simply ecstatic on our way to the airport, we felt that nothing could go wrong, also because our friends had managed to reschedule their trip as well, so we'd meet there. The flight took a bit less than 4 hours. See, I told you, Ushuaia is far. The view of the mountains and the Beagle Channel from the plane just before landing was incredible.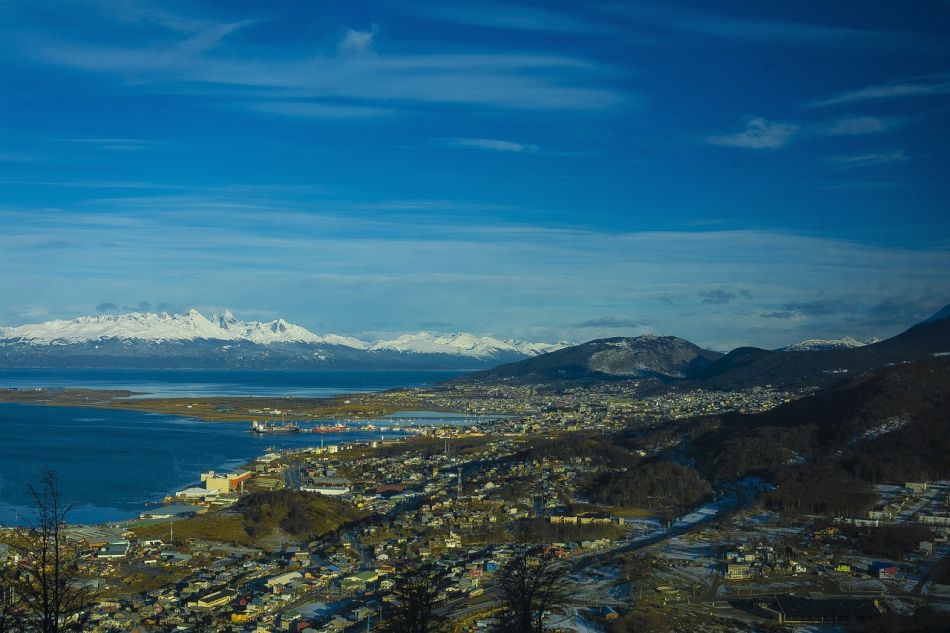 Our rental car was waiting for us as at the airport and we drove downtown to grab a quick lunch in a place the car rental agent recommended. We then drove to the cabin that was on the road halfway between downtown and the ski resort. The somewhat winding route was quite scenic with the Beagle channel to our right and the clean Patagonian sky over our heads.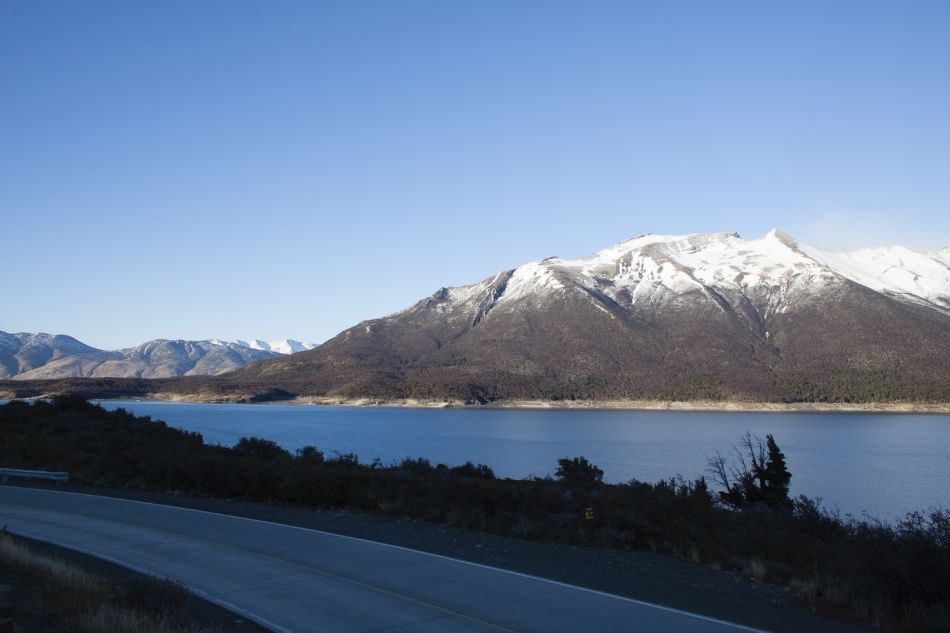 A few moments of confusion followed our arrival to the cabin because the host was not in sight. With a quick call we learnt that she had left the door open for us and that the keys were inside along with some cookies and tea as a thoughtful welcome gift. We soon learnt that Ushuaia is a very safe place, and this kind of thing is customary. The sun was already coming down and we cold feel the temperature dropping. Luckily, our host had left the heat running and the cabin was nice and cozy. As soon as we unpacked, we headed to a large supermarket, that we had seen from the car on our way to the cabin to buy some food for the week, dinner for that night and some snacks for the ski days to follow.
Next morning, we were up early and after a nice hearty breakfast and putting on our ski gear we were on the car on our way to Cerro Castor. The route n° 3 takes you directly to the entrance of the ski resort, as you make your way to park the car you can see the chairlifts heading up the mountain with the skiers already on board. You then head to the welcome center where you can find the ski rental and reserve ski and snowboard lessons if you choose to. After we were all set, ski gear for some and snowboard gear for others, we headed to the chairlift. At this point, you can alternatively go up with your skis on or if you're feeling a little less confident because it's your first day, you can go ahead and walk carrying your skis and put them on once you get to the top. I highly recommend this option; I feel it's much safer if you haven't skied in a while and, in my opinion, completely compulsory if you have never skied. This chairlift is the most crowded because all skiers must go up this first one in order to get to the base of the mountain where all other ski lifts depart from.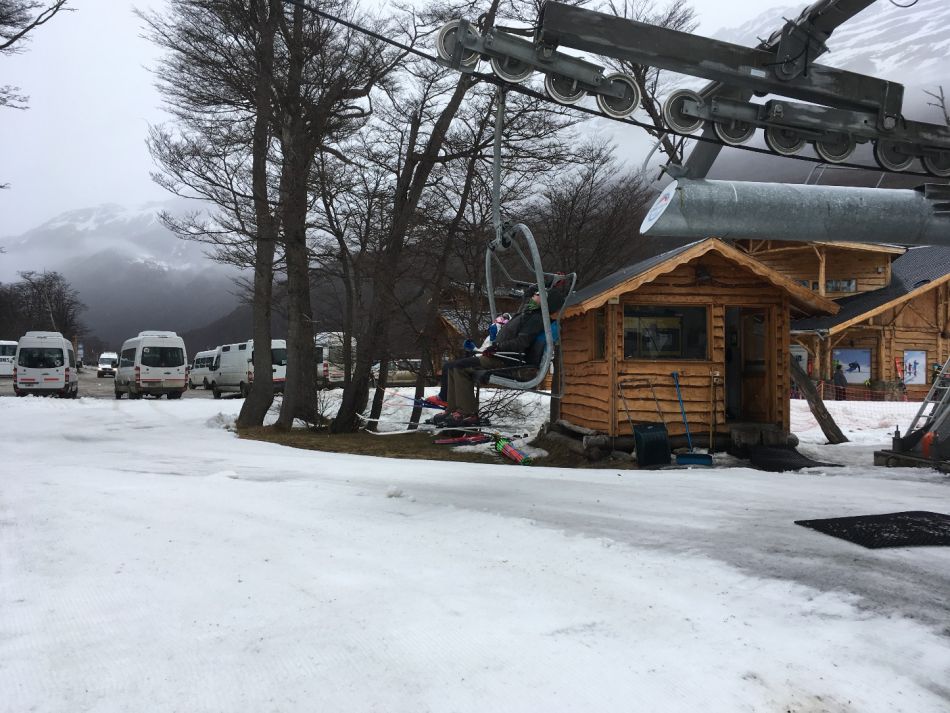 The ride on the "Del Bosque" chairlift is simply delightful with a breathtaking view of all the surrounding area as you go up. It rises from ground level next to the parking lot crosses over route n°3 and leaves you at "cota 480" where you have access to all other ski lifts. There is another chairlift a little further out, but I never tried it. It leaves you a good 100 meters higher up the mountain and is generally used by professional skiers to avoid amateurs like myself. You can rest assured though that all ski lifts are world class and staff is totally professional.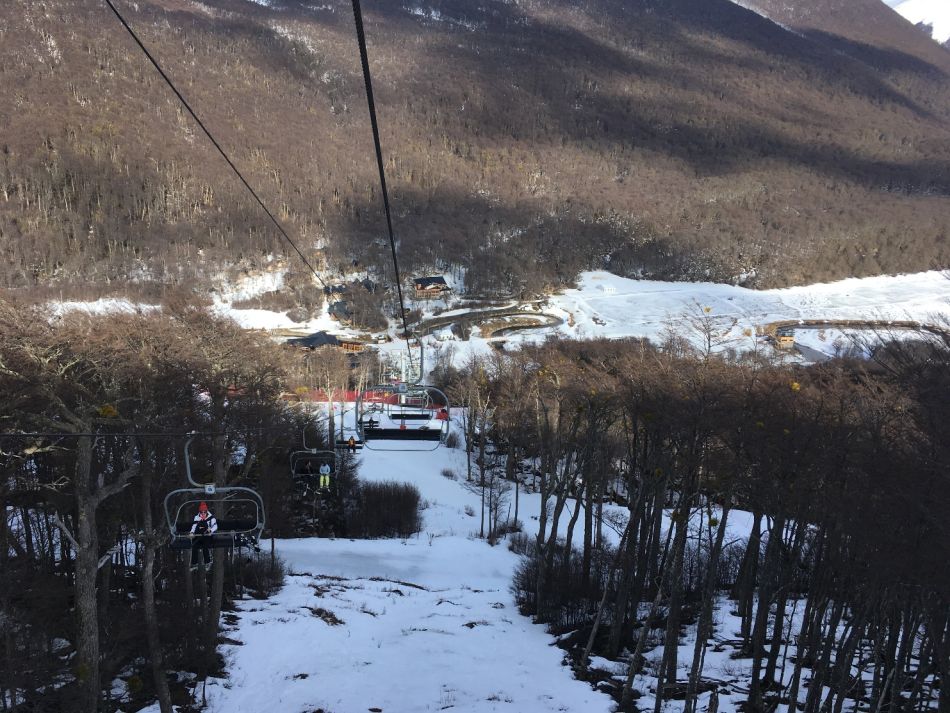 Take a look at a map of the slopes on their official web page if you want to learn more: https://www.cerrocastor.com/mapa-pistas Something particular about Cerro Castor is that you get to see professional skiers as the come down to practice for the Winter Olympics while there is no snow available in the northern hemisphere. This means you're in for quite of a show while you're waiting in line for the chair lift as most of them have made an early start and are skiing down the last black slope which comes directly into view from where you are. Don't get too distracted, though, or you'll miss your ride. You'll surely meet them again during the rest of your day or you can watch them from the cafeteria window while you enjoy some hot cocoa. As for the adventures on the slopes and elsewhere around Ushuaia, you'll have to stay tuned for future articles. See you soon!
Enjoying my content? Want to buy me a coffee? https://www.buymeacoffee.com/vkambo